At Aesthetic Arts Institute, we are committed to providing the care, convenience and comfort you deserve. We offer flexible payment plans to fit your budget, and major credit cards are always welcome. You can't put a price on the rebuilding of self-esteem or the renewed confidence that comes from looking as wonderful as you feel. If you have thought about refining your appearance with plastic surgery, we want to make sure it's right for you. We invite you to call (858) 984-9876 or (855) 337-6988 today for your private consultation. Our Financial officers are readily available to meet with you to provide you with the specific information you desire.
---
Cash or Check:
Personal check, cashier's check, or cash.
Credit Cards:
Visa, MasterCard, or Discover
---
Optional Patient Financing
Although we do not carry in-house financing, we are happy to assist you with applying for financing. We have the following financial options available in our office:
CareCredit®
Offers No-interest financing or low minimum monthly payment options. CareCredit offers an instant approval process and patients can apply by either calling 1-800-365-8295 or by applying online at www.carecredit.com
ALPHAEON™ Credit
For patients seeking to improve their wellness, beauty and performance they deserve the best: the best options, the best technologies and the best physicians. ALPHAEON™ works with leading physicians to identify, validate and then offer innovative solutions to help you feel and look your best.
GreenSky Patient Solutions®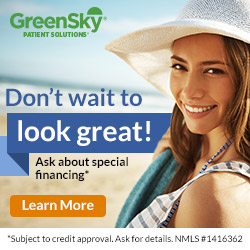 This program makes it possible for our patients to receive the healthcare treatments and procedures without delay with flexible payment plans and multiple ways to make payments.