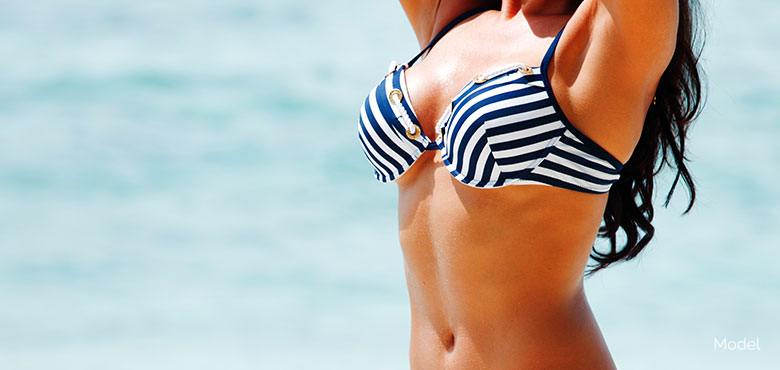 With breast augmentation, Dr. Susan Kaweski creates full, beautiful, and more youthful-looking breasts by adding or restoring volume, symmetry, and contour. Whether you have always wanted a more feminine shape or you want to regain your figure after pregnancy and breastfeeding, this surgery can help you achieve your aesthetic vision.
San Diego and La Mesa breast augmentation patients choose Dr. Kaweski because of her years of experience in plastic surgery and because, as a woman, she is personally familiar with female aesthetics. This background helps her shape subtle features that create a natural-looking, attractive appearance for those in her care.
---
Discussing Your Goals
During your initial consultation, you'll meet with Dr. Kaweski and have time to talk about what you'd like to accomplish. Breast augmentation, like other aesthetic procedures, is intensely personal. As such, Dr. Kaweski believes in giving patients time to learn about the process and to collaborate with them in planning their procedure. This way, the outcome meets or exceeds your individual goals.
As part of your visit:
You will have a chance to review photos of past patients.
Kaweski will perform an examination and discuss different surgical approaches.
You will be able to ask questions and get detailed answers so that you make fully informed decisions for your breast augmentation.
And if you decide that this surgery is right for you, you will be able to try on the implants in the office to get a better idea of how you will look.
Dr. Kaweski typically uses silicone breast implants because of the benefits that they offer: greater durability and a more natural feel. She prefers Mentor implants, which are manufactured in this country. She has personally visited the Mentor plant in Texas and feels the quality and manufacturing process of the implant is superior. She has confidence that this implant will provide the best results for her patients.
---
A High Level of Quality in Your Care
Dr. Kaweski's general approach to breast augmentation for San Diego and La Mesa patients is to sculpt the most natural-looking, attractive breasts possible. This means drawing on her skill and experience in developing your surgical plan. It also means focusing on the details of each feature during your procedure.
Dr. Kaweski pays special attention to creating balance in the shape and size of your breasts so that they complement your figure rather than detract from it. Grace, beauty, and flow should define your outcome.
Additionally, she uses great care to ensure the longevity of your results. To prevent bacterial contamination, Dr. Kaweski uses extensive antibiotic irrigation in the pocket, as well as, covering over the nipple areola complex, and uses a no touch surgical technique for insertion of the implant. This has helped her maintain an extremely low risk of capsular contracture.
---
Your Experience with Breast Augmentation
Dr. Kaweski conducts procedures for San Diego-area patients at La Mesa Surgery Center. Your breast augmentation will take place under general anesthesia and on an outpatient basis, so you will go home the same day.
During your recovery, Dr. Kaweski suggests that you avoid strenuous activity for about 4-6 weeks. You can expect to wear a sports bra and bandeau for a period of 4 weeks as the site heals. Once you have fully recovered, you should be able to enjoy the results of your surgery: fuller, larger breasts and a rejuvenated, attractive, and natural-looking figure.
Schedule an initial consultation to learn more about breast augmentation. Call our San Diego and La Mesa offices at (619) 464-9876, or contact us online.